Southern Cross deal welcomed by government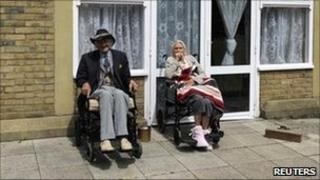 The government has welcomed the deal agreed by Southern Cross that gives the company four months to find a solution to its financial difficulties.
Health Minister Paul Burstow said the agreement was a "welcome development".
Labour MP Nick Smith, who tabled an urgent question in the House of Commons, said ministers had been "too slow to get a grip" on the crisis.
Mr Burstow told MPs that the government was monitoring the situation but this was a "commercial sector problem".
Late on Wednesday, Southern Cross announced the deal in a joint statement with its landlords.
The four-month process will be overseen by a restructuring committee consisting of representatives from the Darlington-based company and its 80 landlords.
At the end of the process, Southern Cross is expected to end up operating under a different name with between 250 and 400 of its current 751 care homes.
Mr Burstow said the exact details of the agreement would be set out "over the next few days and the following weeks".
He said the welfare of Southern Cross's 31,000 residents was "paramount" and the government would not allow any residents to be left homeless or without care.
"We are engaged with the company, the landlords and the lenders and are monitoring the situation very closely," he said.
"It is for Southern Cross, its landlords and those with an interest in the business to put in place a plan that stabilises the business and ensures operational continuity of the care homes.
"This is a commercial sector problem and we look to the commercial sector to solve it. All the business interests involved fully understand their responsibilities."