Gazumping 'pushing up rent costs for tenants'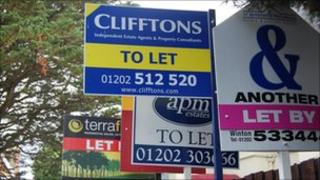 Gazumping is pushing up rents in England and Wales as the average cost to tenants reached £696 in May, according to a survey.
Rising tenant demand has led to some offering above the asking price to rent a home, LSL Property Services said.
The average cost of renting a home has risen for four consecutive months, its analysis suggested.
But more than one in 10 tenants in the UK missed or were late paying their rent in May, it also found.
Regional breakdown
The average rent in England and Wales was £4 higher in May than in April, said LSL, which owns a lettings agents network including chains such as Your Move and Reeds Rains.
The typical rent was 4.4% higher than a year earlier, but there were significant regional variations, it said.
In London, annual rental costs have risen by 7.8% in the last year. In the North East of England, the cost was up 6.4% and there was a 6.2% rise in the East Midlands.
Yet, average rents have fallen by 1.2% in the East of England, and were down 0.4% in the South West of England.
"The rocketing cost of living, combined with ongoing difficulty first-time buyers are experiencing in obtaining a mortgage, is increasing the number reliant on rental accommodation," said David Newnes, of LSL.
"With the fierce competition for homes, rental gazumping is becoming more commonplace and properties are being let beyond asking price, putting further upwards pressure on the market. For tenants, unable to buy, renting is becoming less affordable as demand booms. Rents are increasing at twice the rate of wages."
LSL calculated that 11.5% of UK rental payments were unpaid or late in May.