Blackberry firm misses its lowered forecasts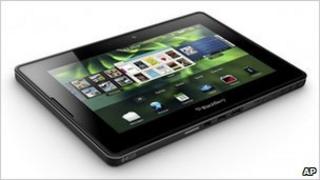 Research in Motion (RIM), which makes Blackberry phones, has missed even its lowered profit forecasts and lowered its predictions for the full year.
RIM made a net profit of $695m (£430m) in the three months to 28 May, down from $769m in the same period last year.
It warned in April that its profits would be low because of lower shipments of its Blackberry phones.
RIM has announced a cost-cutting programme, which will include job cuts.
"Fiscal 2012 has gotten off to a challenging start," said Jim Balsillie, joint chief executive of RIM.
"The slowdown we saw in the first quarter is continuing into Q2, and delays in new product introductions into the very late part of August is leading to a lower than expected outlook in the second quarter."
The company's shares fell sharply in after-hours trading and had to be suspended briefly.
"The guidance was just awful. The devices are receiving less shelf space and less support from carriers," said Peter Misek at Jefferies and Co in New York.
"People are not waiting. They're going to other platforms."