Capital One to buy ING online bank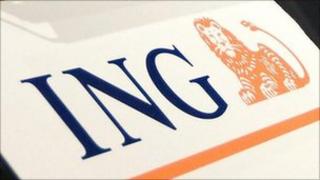 Capital One says it plans to buy the US internet banking arm of ING in a move that will make it the seventh largest US bank by assets.
Capital One, best known for its credit cards, will pay $9bn (£5.5bn) in cash and shares - $6.2bn of that in cash.
The deal will also leave the Dutch banking and insurance giant with a 9.9% stake in Capital.
The move is the latest step in Capital One's plan to branch out from its credit card lending roots.
It will raise $2bn in new capital and $3.7bn in new debt in order to finance the transaction.
ING received a 10bn euro (£8.8bn, $14.3bn) bailout from the Dutch government in 2008.
That was followed by a restructuring plan in 2009 agreed between the European Commission and ING.
One condition of that was that it sell the US internet banking division.
ING Direct launched in the United States in 2000 and is now the largest online bank in the country with 7.7 million customers.
The sale will not affect ING's internet banking businesses in any of the other countries where it operates.
Capital One said it expects to realize "modest" cost-savings of $90m from the deal, and funding savings of $200 million annually.