ILO in domestic work rights push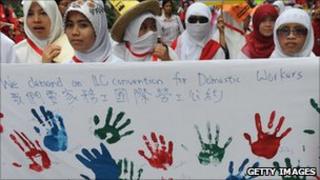 The International Labour Organization (ILO) has said that domestic workers must have the same basic labour rights as enjoyed by other professionals.
It said rights should include reasonable working hours, a weekly rest day and a limit on payment "in kind".
The rights were outlined in the Convention on Domestic Workers (2011), adopted by the ILO at its annual conference in Geneva.
The ILO says about 53 million people worldwide are domestic workers.
"We are moving the standards system of the ILO into the informal economy for the first time," said Juan Somavia, the ILO's director general.
"This is a breakthrough of great significance. History is being made."
According to ILO proceedings, the new convention will come into force after two countries have ratified it.
'Undervalued and invisible'
The convention defines domestic work as work performed in or for a household or households.
The convention said that "domestic work continues to be undervalued and invisible".
It noted that in majority of the cases, domestic workers were women or young girls who were particularly vulnerable to discrimination.
"We need effective and binding standards to provide decent work to our domestic workers, a clear framework to guide governments, employers and workers," said Halimah Yacob, the Workers Vice-Chair from Singapore.
Ms Yacob added that it was collective responsibility to ensure that domestic workers were treated with respect and dignity.
Manuela Tomei, director of the ILO's Conditions of Work and Employment Programme, said that the new standards would ensure that domestic helps were not treated as "second-class workers".
"Domestic workers are neither servants nor members of the family, but workers," Ms Tomei added.