Greece debt crisis continues to pressure markets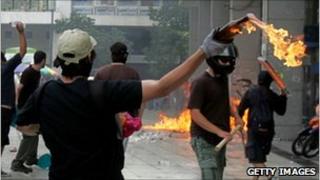 Asian financial markets have fallen again as investors remain worried about the impact of Greece's economic crisis.
Japan's main share index fell 0.7% while Hong Kong's was down 0.4%, adding to deeper falls seem in Thursday's trading.
They follow on from a troubled day of trading on Europe's markets.
The renewed falls come as the Greek Prime Minister prepares to reshuffle his cabinet to try to ensure austerity measures are passed.
China's concerns
Japan's Nikkei index has fallen 1.8% over the week, and is about 2.3% down in the past two days. Hong Kong's main index is down 2.4% over the week and about 2.1% lower in the past two days.
The euro fell 0.2% to around $1.4175 in early Asian trade on Friday.
Meanwhile, China's Foreign Ministry said on Friday that it was "vitally important that Europe overcomes its debt crisis".
The comments come as the Chinese Premier, Wen Jiabao, prepares for a visit next week that will include Hungary, the UK and Germany.
On a previous visit, to France, Portugal and Spain, he offered to help Europe overcome its debt crisis.
The Vice Foreign Minister, Fu Ying, said: "China has consistently been concerned about the state of the European economy."
Angela Merkel and Nicolas Sarkozy are due to meet in Berlin on Friday morning to discuss how to ensure the country can avoid default on its sovereign debt.
French and German banks have the most exposure to Greek debt, holding, between them, 55% of Europe's total exposure.
Greek two-year bond yields rose 1.6 percentage points to 28.6% on Thursday.
Finance chief
To avoid the government defaulting on its debts, Prime Minister George Papandreou must pass new spending cuts and sell-offs of state property to receive new funds from the European Union and International Monetary Fund.
On Friday, he began forming a new cabinet to muster support for the painful economic reforms.
The key casualty of the re-shuffle was finance minister George Papaconstantinou, the main architect of hugely unpopular budget cuts.
He is being replaced by Evangelos Venizelos, the defence minister. Mr Papaconstantinou is moving to the environment ministry.
On Thursday, in a statement intended to soothe markets, the European Union's top economic official, Olli Rehn, said he expected the EU and IMF to release a crucial 12bn euro loan in early July to keep Athens afloat.
The crisis comes amid a backdrop of soaring unemployment, with figures on Thursday showing that the jobless rate in Greece rose to 15.9% in the past three months, up from 14.2% for the same quarter last year.