Fuller's takeover bid for Capital Pub Company rejected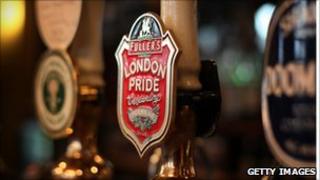 Brewer and pub operator Fuller, Smith & Turner has said it made a £54m takeover approach for a chain of London pubs, only to be rejected.
Fuller's said it had offered the board of the Capital Pub Company 175p a share in cash in March, later upping the offer to 200p.
Capital Pubs saw its share price jump by a quarter to 160p at the time, and it closed at 155.5p on Thursday.
Capital, which operates 29 pubs in London, made a £1.5m loss in 2009-10.
"Fuller's would like to work towards a recommended transaction and establish a constructive dialogue with Capital," Fuller's said in its statement to the London Stock Exchange.
The London-based brewer did not say whether it was planning a hostile bid, but laid out its rationale for the offer.
The firm said that Capital's stated growth strategy was likely to require further equity issuance, and involved "considerable risks" that could "have a negative impact on valuation over time".
"In contrast, any offer by Fuller's... would provide Capital shareholders with the certainty of a cash exit in the near term at a substantial premium.
"Fuller's is therefore disappointed that Capital's Board has declined to engage with it so far."
The announcement comes a week after Fuller's reported an increase in full-year pre-tax profits last year to £31m, thanks to a 2% rise in beer sales and 16% rise in revenues.
Fuller's has 162 pubs which it directly manages and 196 tenanted inns, in which landlords rent the pub and get their supplies from Fuller's.