Greece debt worries keep markets cautious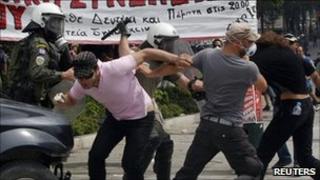 European shares have fluctuated on Friday as markets monitor the latest moves in the Greek debt crisis.
European markets fell 1% at first before pulling back on hopes of a quick resolution to Greece's latest problems.
Comments from the German and French leaders, and a reshuffle of the Greek cabinet, bolstered hopes that Athens will get its next tranche of bail-out money, about 12bn euros.
Investors are concerned that Greece may default on its debts.
By late morning, the main share indexes in the UK, France and Germany were almost back in positive territory. The futures indexes for Wall Street indicated that US markets will open higher.
German Chancellor Angela Merkel and French President Nicolas Sarkozy made a joint call on Friday for a new rescue package to be agreed upon as quickly as possible.
Worries that the two leaders were divided over the way forward for Greece has fuelled investors' concerns.
Greece urgently needs another tranche of bail-out money to avoid defaulting on its debts, an event that could spread contagion throughout Europe.
A Spanish bond auction underlined the fears, with investors demanding a higher rate of return.
Financial lifeline
Earlier, Greece's Prime Minister George Papandreou replaced his finance chief as part of a cabinet reshuffle aimed at pushing through budget cuts.
Evangelos Venizelos will take over from George Papaconstantinou, a move that sparked a jump in Greek bank shares.
Although shares in Greek companies rose, with bank stocks up 4% at one stage, analysts were divided over whether the cabinet reshuffle would restore confidence.
Mr Papandreou wants to impose political stability as Greece awaits approval for the next tranche of bail-out money.
The European Union's top financial official, Olli Rehn, has indicated that Greece is likely to get its next round of funds in July if Mr Papandreou's government can pass new budget cuts and privatisations before the end of the month.
Greece needs a 12bn euro loan to avoid defaulting on its debts, something that analysts and European politicians fear could spark a wider crisis within the eurozone.
Greece has witnessed street protests and political turmoil over the issue. Mr Papaconstantinou, the architect of Greece's austerity measures, had become increasingly unpopular in the country.
Burden
Mrs Merkel and Mr Sarkozy discussed the Greek crisis at a meeting in Berlin.
Mrs Merkel, facing a backlash domestically over Germany's contribution to the bail-outs, is pushing for private creditors and bondholders to share a big part of the burden.
France's big three banks - Credit Agricole, BNP Paribas and Societe Generale - are heavily exposed to the Greek economy, and this week ratings agency Moody's warned it may downgrade the credit rating of the three French banks because of their exposure to Greek debt.
In their joint statement, Mrs Merkel and Mr Sarkozy said that private involvement in a new Greek rescue must be voluntary, although they gave no details on how this would work.
However, the comments were interpreted as an indication that France and Germany are working towards a compromise.