Tesco staff to get 2.5% pay rise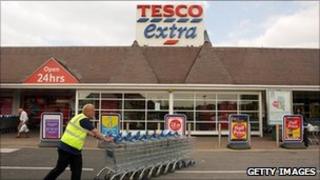 Tesco has announced a minimum 2.5% annual pay rise for 233,000 staff in the UK from July.
Customer assistants - who comprise two-thirds of staff in stores - will see a 2.7% increase, taking their pay above £7 per hour.
The increase is below the current 4.5% rate of inflation, although it is higher than the 2% rise in UK average earnings seen in the year to April.
The deal follows negotiations with the Usdaw union.
"We continue to invest in our people because they are our most valuable asset," said Tesco's UK business head, Richard Brasher.
"This pay deal recognises the hard work of all of our store staff, rewarding their continued commitment to customers and the huge contribution they make to our continuing success."
Earlier this week, Tesco reported subdued sales in the UK for the first three months of its financial year, although it recorded stronger sales growth abroad.
UK like-for-like sales excluding petrol and the effect of VAT were down 0.1% from a year ago, and although this was an improvement on the previous quarter's 0.7% fall it was still short of analysts' expectations.
Last month, the firm said 225,000 staff would participate in a £110m bonus pool - almost £500 on average - based on the firm's profits for 2010.
The retailer also restructured its executive pay scheme after nearly 40% of shareholders voted against its previous proposal.