Waitrose launches ad campaign to rival Ocado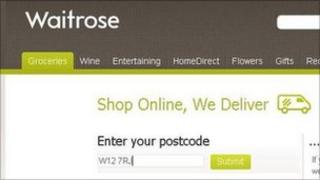 Waitrose is to launch an advertising campaign for online shopping, in direct competition with its partner Ocado.
The adverts, which will include direct mail and emails, will emphasise that Waitrose offers free delivery.
The 10-week campaign will begin outside London this month, extending into the capital after an agreement not to compete with Ocado expires on 1 July.
It comes after Waitrose owner John Lewis sold off its 29% stake in the Ocado delivery service in February.
Until recently, Ocado had been synonymous with Waitrose for many customers, having provided an exclusive online ordering and home delivery service for the grocer since 2002.
The supermarket chain currently offers home delivery from only 16 branches in the London area, and from 96% of its stores in the rest of the country.
However, Waitrose said it will expand its home delivery service to include the whole of London by August, once its agreement not to compete with its long-time delivery service partner expires.
A new agreement between the two allows Waitrose to deliver direct, albeit from stores rather than a depot.
In April, Waitrose signalled its intentions by opening a giant virtual store.
However, Ocado is said not to be concerned by the move, as it views any move to shift more consumers into online shopping as beneficial to its business model.
Ocado's share price closed down 1.9% on Friday as the Waitrose ad campaign was unveiled, underperforming the broader market, including supermarket stocks.