Greece: Merkel urges 'substantial' input from banks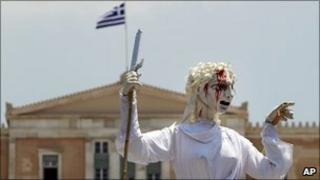 German Chancellor Angela Merkel has called on private creditors to help alleviate Greece's debt crisis amid continued protests in Athens.
A new bail-out package for Greece should involve "substantial" input from private banks, said Mrs Merkel.
On Friday Greek PM George Papandreou reshuffled his cabinet in an attempt to restore political stability.
Greece is awaiting approval for the next part of an EU- and IMF-brokered deal worth 110bn euros (£97bn).
It needs a 12bn-euro loan to avoid defaulting on its debts due for repayment over the next few months, but that loan is dependent on the implementation of painful domestic reforms.
Mr Papandreou's plans for tax hikes, pension cuts and privatisations that will save 28bn euros over the next four years have sparked nationwide strikes and ugly riots on the streets of Athens.
Thousands marched on the Greek parliament on Saturday to show their continued anger at Mr Papandreou's belt-tightening campaign.
The European Union's top financial official, Olli Rehn, has indicated that Greece will get its next round of funds in July if Mr Papandreou's government can push through the reforms.
Averting fears
The German chancellor is facing a backlash domestically over her country's huge financial contribution to European bail-outs.
There had been calls in Berlin that investors should allow Greece extra time to pay off debts and should be made to participate in future fundraising by Mr Papandreou's government.
Mrs Merkel said on Saturday that while contribution from the private sector in the bail-out must be voluntary, Germany was working to make sure it was substantial.
She told a meeting of her CDU party in Berlin that such talks should be held in private, in order to avert fears among investors and ratings agencies of Greece defaulting on its sovereign debt - which amounts to some 340bn euros.
"We again have to show solidarity and also have to include private creditors," Mrs Merkel said.
On Friday, Mrs Merkel and French President Nicolas Sarkozy said they had agreed that any private sector involvement should be "voluntary", not compulsory.
They met in Berlin after a public disagreement between their governments of the involvement of private investors in resolving Greece's debt crisis.
They said they wanted a new rescue package for Greece to be agreed as soon as possible, and their comments were seen as a signal to banks and bondholders that they would not be made to incur losses on Greek debt.
France's big three banks - Credit Agricole, BNP Paribas and Societe Generale - are heavily exposed to the Greek economy. Ratings agency Moody's warned this week it may downgrade the three French banks because of their exposure.
The French-German announcement eased tensions in financial markets: After initially extending their week-long falls, Europe's main bourses recovered on Friday, with France's Cac 40, Germany's Dax and the UK's FTSE 100 all closing up.
Friday's Greek cabinet reshuffle saw former Defence Minister Evangelos Venizelos replacing George Papaconstantinou in the finance ministry, sparking a jump in Greek bank shares.
But analysts remain divided as to whether the new cabinet - which faces a parliamentary vote of confidence on Tuesday - will be able restore confidence.