Tesco Bank update affects customer account access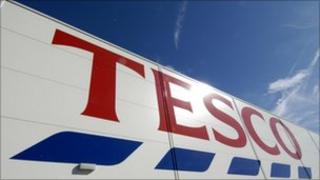 Some customers of Tesco Bank have been unable to access their accounts during an update of computer systems, the bank has confirmed.
The bank, which operates in stores, online and by telephone, said problems occurred when transferring savings and loans products in-house, from its previous joint operation with RBS.
It apologised to customers but said the issue had now been fixed.
Many online banking services have suffered computer glitches in the past.
Tesco Bank has 6.5 million customer accounts, with services ranging from insurance to credit cards, loans and personal savings offers.
It launched in 1997 as Tesco Personal Finance, a joint venture with RBS, but became fully owned by Tesco in 2008.
Over the weekend, some systems were moved over from RBS.
"For a brief period some customers were unfortunately unable to access their accounts," a Tesco spokesman said.
"We apologise for this, but can reassure them that the process is now complete and all customers can access their accounts online as normal."