Europe says Russia will lift ban on vegetable imports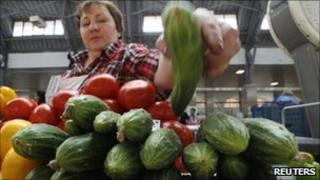 Russia will lift its ban on vegetable imports imposed after last month's E. coli outbreak, the European Commission has announced.
But Russia pointed out that trade would only resume once it had seen certificates proving the food was safe.
The EU health commissioner John Dalli, is on a visit to Russia to try to persuade it to end the ban.
The European Commission said exports would begin this week - but Russia suggested it might not be that soon.
The commission's health spokesman, Frederic Vincent, said: "We are heading towards an immediate resumption of European vegetables, based on EU certificates that will explain to the Russian authorities that in each EU state there are labs and a surveillance and verification system."
It had hoped the produce would begin flowing into Russia as early as Thursday.
Official bodies
The EU has said each member state exporting fresh vegetables to Russia would have to certify the origin of the produce and the absence of the strain of E.coli responsible for the outbreak.
But the head of Russia's state consumer protection watchdog, Gennady Onishchenko, told the Reuters news agency that the country would only resume imports of vegetables from the EU once Brussels had provided Moscow with a list of official bodies and laboratories authorised to issue food safety certificates.
He said: "Everything depends on them. It [the deal] does not mean that everything will immediately return to the Russian market."
The EU says it is in the process of providing Russia's health authority with the names of the national authorities and laboratories accredited to monitor vegetables.
Cucumbers
Russia is an important market for EU vegetable producers.
The EU estimates the value of fresh vegetable exports to Russia at 600m euros (£536m) a year, a quarter of the total exported.
Spain, France, Germany and Poland are the biggest exporting producers.
The E. coli outbreak has so far been linked to the deaths of 35 people and has made 3,000 people ill.
The source of infection, which initially focused on cucumbers from Spain, has been identified as bean sprouts from an organic farm in northern Germany.
The European Commission has offered 210m euros (£186m; $303m) to European farmers who have seen a dramatic loss of income since the outbreak started in early May.