BA staff back the agreement to end industrial action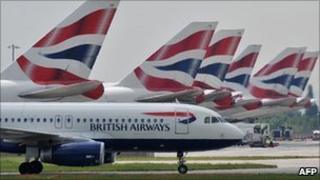 British Airways cabin crew staff have backed the agreement to settle their long-running industrial dispute with the airline.
The Unite union said its members voted 92% in favour of the deal, which it said was an "honourable settlement".
The agreement between BA and Unite was first announced on 12 May, pending the vote by staff.
Pay and perks were at the centre of the bitter dispute, which lasted for almost two years and saw 22 days of strikes.
Staff will now get a two-year pay deal worth up to 7.5%, and BA has agreed to restore the travel concessions withdrawn from staff involved in the industrial action.
Under the pay deal, staff will get up to a 4% rise this year and 3.5% next year, linked to proposed productivity changes.
Len McCluskey, Unite's general secretary, said: "Unite always firmly believed that this dispute would be solved, not through conflict but through negotiation.
"Thankfully we have reached an honourable agreement with BA.
"The overwhelming acceptance of this deal by cabin crew means that both parties can now move forward together on securing a bright future for the airline."
BA has yet to comment.