Nissan forecasts profits fall after earthquake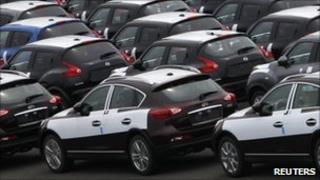 Japanese carmaker Nissan has forecast a fall in profits this financial year, following March's massive earthquake and resulting tsunami.
It said net profit for the year to the end of March would be 270bn yen ($3.4bn; £2.1bn), a 15% fall on the 319bn yen the company made last year.
However, Nissan said sales would rise almost 10% to 9.4 trillion yen
Earlier this month, both Honda and Nissan said their profits would be hit hard by the earthquake.
Honda said profits would slump by 64% to 195bn yen, while Toyota said its profits would fall by a third to 280bn yen.
'Continuous growth'
Nissan said it expected to sell 4.6 million vehicles this year, 10% more than last year.
Full production would return by October following disruptions caused by the earthquake, it added.
"Continuous growth in 2011 will bring Nissan a new record volume," said Nissan boss Carlos Ghosn.
"The unrelenting work ethic of Nissan employees is an inspiration - particularly after one of the worst natural disasters in modern history. The high level of motivation and performance of our Nissan team continues to be the foundation of our success."
The carmaker also plans to double dividend payments in 2011 to 20 yen per share.
The March earthquake and tsunami hit supply lines to companies across the world, but Japanese carmakers were among the worst hit.
As a direct result, Toyota is likely to lose its crown as the world's largest carmaker.
It expects to sell 7.24 million vehicles this financial year. Honda said it expected to sell 3.2 million vehicles.