US new home sales fall back again in May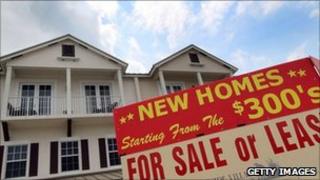 US new home sales fell by 2.1% in May from the previous month, figures have shown, providing further evidence of the country's weak housing market.
May sales came in at a seasonally-adjusted annual rate of 319,000, down from an upwardly-revised 326,000 in April.
New home sales had risen in the previous two months.
Figures released earlier this week showed that existing home sales fell by 15% in May.
Together with high unemployment, the weak housing market is seen as a major drag on the economic recovery in the US.
Oversupply of used homes and a large inventory of foreclosed properties are undermining the market, analysts say.
Despite the fall, new home sales are well above levels recorded earlier this year.
In February, sales fell to a rate of 278,000, the lowest since records began in 1963.