Women's World Cup likely to boost female football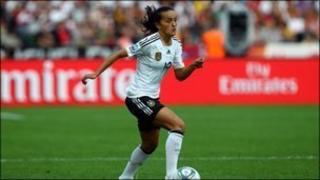 The Women's World Cup has just kicked off in Germany and for many football fans around the globe it may be their first taste of the female game.
But, historically, women's football was doing very nicely indeed - in the UK at least - until the men got in the way.
During the First World War in Britain, female workers at the munitions factories formed teams known as "Munitionettes" which played against each other.
On Christmas Day in 1917, 10,000 spectators watched two women's teams playing at Preston in the North of England.
In 1920, 53,000 football fans turned up at Everton's Goodison Park stadium in Liverpool to watch St Helen's Ladies play Dick, Kerr and Co, a female team made up of employees from a Preston munitions factory.
But men were not impressed. There were mutterings that playing football might impair fertility - the women's not theirs.
And in 1921, the Football Association banned women's teams from grounds used by men.
As the motion put it: "The Council feel impelled to express their strong opinion that the game of football is quite unsuitable for females and ought not to be encouraged."
Player numbers rising
And that was pretty well it in Britain, the home of association football. The game for women declined, relegated to the edges of parks and played on the quiet by outsiders.
Well, not quite. Fast forward to today.
As the Women's World Cup is played in Berlin, there are 26 million women around the world registered as footballers by Fifa, the world governing body for the sport, six million in Europe and eight million in the US.
Rewards for women players are rising.
When Germany's women won their first big tournament in 1989, the bonus to the players was a coffee set, replete with a floral design in red and blue.
If they win this tournament, they will get 60,000 euros each.
Women's football is feted and watched in Germany (not least in Playboy magazine where some players posed in non-feminist and non-football attire).
Chancellor Merkel appears on German television to opine about tactics and the flow of the game.
Tight competition
So women's football in the host country has come a long way since it was banned between 1955 and 1970 because, as the authorities put it, it was a combative sport which was "alien to the female nature" and the "display of the female body violates etiquette and decency".
Today, Germany is the team to beat. It has won the last two World Cups and beat Canada in the opening game of this one.
As a measure of the game's growth, this World Cup seems more open than previous ones. The competition will be tighter.
There are now leagues for women in the US, Sweden, Holland, Britain, Japan and Germany, often with some professional players, although they earn far less than their male counterparts - and with crowds far smaller than those drawn by men.
In the US, sponsors are keen to get involved.
Sponsor trailblazer
Dr Jean Williams of the International Centre for Sports History and Culture in Leicester, UK, points to US 1990s legend Mia Hamm, as having had "great cross-class, cross-gender appeal to all kinds of people".
"The second biggest building on the Nike campus is dedicated to ... Mia Hamm, because she was such a big pull for them in terms of their corporate sponsorship.
"She was second only to Michael Jordan."
Dr Williams adds: "It was not uncommon to see a father with a Mia Hamm shirt walking into a restaurant with his daughter who was also wearing a Mia Hamm shirt."
She thinks the game needs to attract new, niche sponsors, the makers of "premium goods" like high-end watches or other luxury products.
"A lot of these women are terrifically good-looking, terrifically talented, great athletes - so they could earn more from endorsements from that kind of product than from the game itself," said Dr Williams, who has done a study of the state of the women's game for Uefa, European football's governing body.
Different appeal
But there will be the objection that women's football has to be second best because women are generally slower, smaller and not as strong. They can't compete.
To which the defenders retort that the same was said of women's tennis, which now attracts crowds - and money.
"If I were to be critical of the men's game, it's that the physicality has gone too far, particularly in the Premier League One", says Phil Murphy, who owns Sky Blue FC, a women's football franchise in New Jersey.
Mr Murphy, who is also the US ambassador to Germany, argues that women's football can have a different appeal.
"I think there's much more emphasis in the women's game on making the right pass, on the flow of the game," he says. "I like the flow better. I like that part of the game."
Mr Murphy thinks that, commercially, much will depend on the emergence of "heroes" in this World Cup.
If it produces a star, then the numbers of people bearing money to ticket booths and television channels will rise.
The organisers, too, think that this World Cup is very important in setting a tone, forming an image of the game.
The president of the organising committee, Steffi Jones, who played 111 times for Germany, told the BBC: "For the world, it's important to show that it can be sold out."
She hopes that good football played by women will draw in other women, particularly in countries where women have a tough time of life in general.