One in four UK workers 'would move abroad for work'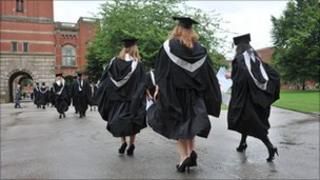 More than one in four workers in the UK would move abroad for a better job, a survey suggests.
Research group GfK said 27% of 1,000 UK employees questioned were willing to change country, possibly driven by a desire to escape the high cost of living and static wages in the country.
And just under a quarter were looking to leave their employer within a year.
But other countries surveyed may be at a higher risk of a "brain drain", with Latin America potentially hardest hit.
The proportion of workers willing to move country was highest in Mexico (57%) and Colombia (52%), while Brazil and Peru also saw high numbers (41% and 38% respectively).
Even in the US and Canada - countries GfK describes as "traditionally stereotyped for their relative disinterest in living abroad" - a fifth of workers said they would leave to find a better job.
'Loss of talent'
In the UK, the chances of a brain drain appear higher among younger workers with 36% of those aged 18-29 willing to move.
Among higher educated workers, 36% of those with degrees and 38% of those with postgraduate qualifications said they would consider leaving.
"Even if only a fraction of these people actually move abroad, UK businesses will face a significant loss of talent, just at the time they most need it," said Sukhi Ghataore from GfK.
The GfK survey questioned more than 30,000 working adults in 29 countries.