British 'rebalancing' brings pain to the High Street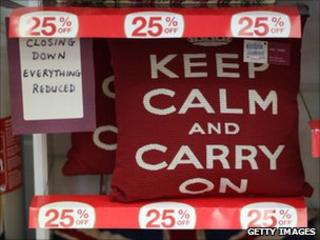 It is not a brilliant time to be a shop's landlord. And it is probably an even more stressful and insecure time to be employed on the High Street.
Thorntons has announced plans to hand back the keys on between 120 and 180 stores.
Jane Norman, which has 90 stores, went into administration yesterday.
Last week the 1960s icon Habitat and Homeform, owner of Moben Kitchens and Dolphin Bathrooms, called in the administrators.
TJ Hughes, with just under 60 stores, has filed an intention to appoint an administrator under insolvency procedures.
After a sharp fall in profits, Lord Harris - the chairman of Carpetright - said this morning that he is reviewing the "future size and shape" of the group's shop network.
And this legend of British retailing said that he sees "no respite from the challenging environment" over the coming year.
HMV has already announced plans to close 60 stores. The future of Comet, owned by Kesa, is under review.
I'm afraid I could go on and on. There is a serious risk that many thousands of jobs will be lost and many many hundreds of additional shops will become empty and shuttered, a blight on the places where most of us live.
There are three unstoppable forces at work:
A squeeze on consumers' spending power from inflation that significantly outpaces wage, tax-credit and benefit rises;
A fear that the squeeze will intensify from expected imminent increases in energy prices and a less imminent rise in interest rates (though with household debt still equivalent to 160% of disposable income, any rise when it does come will be painful);
The migration of much of what the high street and small shopping centres do to the Internet.
Put all that together, and if you are a retailer selling non-essential items easily available on the Internet, and if you lack a powerful brand and trade on slim margins, you may have something of a problem.
And it won't just be your problem. It will also be your landlord's problem. And, because many landlords are in debt up to their eyeballs, it will also be a problem for the landlord's bank creditors.
It is another painful manifestation of the rebalancing of the British economy such that we can generate sustainable long-term growth in a highly competitive world.
Many economists would say that the surge in household debt (to a peak of 180% of disposable income) that fuelled consumer spending and GDP growth in the boom years before 2008 represents as fundamental a flaw in the UK economy as the more recent surge in government borrowing to finance public spending.
Naturally, in an ideal world, increasing the relative contribution of investment and exports to GDP growth would be delivered painlessly, as exports surge and retail sales grow a bit slower. By keeping interest rates so low, that is what the Bank of England is trying to achieve.
But in practice, after years of record borrowing by households, the ideal is elusive. Rebalancing the British economy creates whole armies of losers - consumer and public-sector dependent businesses going bust, employees out of work, creditors out of pocket - during years of adjustment.
Update, 15:54: During the great recession of 2008 to 2009, when the ouput of the British economy fell more than 6%, the disposable incomes of British households actually rose a bit - because benefit payments and tax credits increased faster than the rate of inflation.
In other words, the recession for most households has only started since the end of the official recession.
Today's updated figures on economic activity in the first three months of the year show that real household disposable income fell 0.8% compared with the previous three months and 2.7% over the year - which is the biggest decline since 1977.
What's happening is that inflation has been rising considerable faster than wages, tax credits or benefits.
As the governor of the Bank of England today told MPs, this squeeze on households' living standards is painful and unlikely to end any time soon.