Haye set for heavyweight payday against Klitschko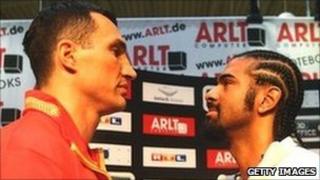 When WBA champion David Haye finally faces off against the IBF and WBO title holder Wladimir Klitschko in their heavyweight unification bout on Saturday, it's estimated the fighters will each earn £10m regardless of the outcome.
Such a sum would be Haye's biggest career purse to date.
His last fight, in November 2010 against Audley Harrison, earned him £4.2m, while victory over Russian Nicolai Valuev in 2009 won him a world heavyweight title plus £2.1m.
And, as Lennox Lewis' former manager Frank Maloney explains, a world champion boxer can expect to make money from a number of revenue streams.
"For a fight like this, the income will be from pay-per-view TV sales, ticket sales and merchandising, which will then be split up between the fighters, TV and promoters," he says.
"Haye and Klitschko should earn around £20m to split between them."
Meanwhile, Barry Hearn, chairman of sport promotion firm Matchroom Sport, believes it is the TV money that is most important.
"How much they make is down to pay-per-view buys," he says.
"I think David will be disappointed if he doesn't make at least £6m to £8m. This fight should have a gross market value of £20m."
Tickets
And, although he is the underdog, Haye is proud that as a result of his negotiations, he will walk away from the Klitschko fight with half the money on Saturday night.
Many within the industry believe he has deliberately stalled during previous fight negotiations with Klitschko, in 2009 and 2010, in order to raise his profile and earn a bigger share of the eventual prize.
A large chunk of that will come from gate receipts at the 57,000-seat Imtech Arena fight venue, home of German football club Hamburg.
Ticket prices went on official sale ranging from 50 euros (£44.70) to 1,500 euros (£1,340), although there is also a secondary market in the tickets.
Haye's last fight against Audley Harrison was held at Manchester's MEN Arena.
A spokesman there explained how big-fight monies were worked out.
"As a venue, we do a basic rental deal with the promoter," a spokesman said.
"We keep secondary incomes like food and beverages, while the promoter will get the ticket sales."
If this business model, also in use at London's O2, was used in Germany, then those from the Haye and Klitschko camps are likely to see the majority of ticket monies.
Pay television
No big fight these days is complete without pay-per-view television coverage, another potential big earner for the two fighters' camps.
A single pay-per-view unit for fight costs £14.95, rising to £19.95 on the day of the fight.
However, pay-TV is by no means a guaranteed source of mega-bucks, with viewing numbers liable to fluctuation, as past experience shows.
In June 2002, the bout between Lennox Lewis and Mike Tyson got 750,000 pay-per-view buys in the UK.
But according to the British Audience Research Board, only 223,000 viewers paid to watch Haye beat Audley Harrison inside three rounds in November 2010.
Meanwhile, Haye's clash with Valuev in November 2009 had about 469,000 subscribers.
And while Haye has been making noises about the pay-TV viewers for his bout outdoing that of Lewis v Tyson, others are less convinced.
'True value'
According to Rafael Tenorio, professor of economics in the business school at DePaul University, Chicago and freelance boxing journalist, we should not take such remarks too seriously.
"In reality, the true value cannot be known until after the fact," he says.
"We can estimate 50,000 people will go to an arena or 800,000 will buy the pay-per-view, but we don't really know what it will be until it is realised."
Sky Sports, broadcasters of the fight via Sky Box Office, are not revealing how many people are signed up.
Although the bout could earn Haye his largest pay cheque to date, some suggest he has not maximised his prospective earnings, having not taken advantage of the US market.
The fight, although screened by US channel HBO, is not on US pay-per-view, a medium which Lennox Lewis and Ricky Hatton have proven can be potentially lucrative for a British boxer.
"Look at [WBA light welterweight champion] Amir Khan," says John Glen, senior lecturer in Economics at the Cranfield School of Management.
"Since his fight against Marcos Maidana in Las Vegas, he is really big box office.
"Haye has missed out on extracting the really big money because he didn't have access to the North American viewers with cable."
He said the US was always hungry for heavyweight boxing, and that any fighter who could get past the one million pay-per-views mark was on target to be big box office.
Self-promotion
Yet by not having a promoter, Haye will earn significantly more money, regardless of the pay-per-view count, and may even end up with more money than Klitschko once all costs are paid.
Both Haye and his manager-trainer Adam Booth handle fight negotiations as well as the boxing preparation.
By avoiding paying fees to a promoter for acting as an intermediary with television and other parties, Haye and Booth will each get an extra slice of the revenues.
Haye has followed the path of Oscar de la Hoya, former multi-weight champion and founder of Golden Boy Promotions, who has been the most successful example of a boxer who has chosen to represent himself.
Final payday?
Mr Glen from Cranfield explains a scenario Haye might have faced at the start of his career, before going it alone.
"The promoter makes the fight, and unless you're a big name fighter, they [promoters] will take the vast majority of the money," he says.
Haye has chosen to look after himself since early 2007, shunning what he has referred to as a system of "employee" and "boss".
Meanwhile, he has said on numerous occasions he would like to retire before his 31st birthday on 13 October.
If he defeats Wladimir Klitschko on Saturday night, Haye will undoubtedly press older brother Vitali - holder of the WBC heavyweight title - for a contest to determine who is the undisputed heavyweight champion of the world.
Should such a fight come about and be Haye's swansong, then a showdown in front of a US audience, with US pay-per-view, could earn him riches beyond whatever Saturday may offer.