Jewellery as an investment: Financial wisdom or misguided tradition?
By Mukul Devichand
Mumbai, India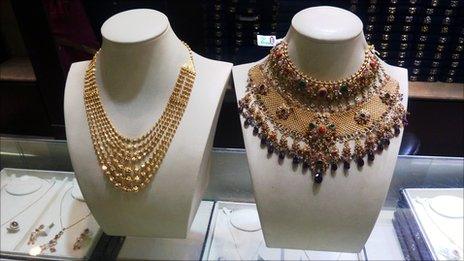 The Indian and Chinese middle classes believe that as well as being an adornment, gold jewellery is a sound investment.
For the past three years, the Mohan family, like millions of others across Asia, has been hoarding gold with any cash its members can spare.
"We purchase one coin or two coins a month," says retired Indian Navy officer Alok Mohan.
It's an investment decision based on traditional culture. The couple's daughter is approaching "marriageable age," they say, and they'll need to give jewellery as gifts.
Like millions of Indians, Mr Mohan feels that ancient financial wisdom has been vindicated by the recent surge in gold prices.
Gold has edged above $1,500 an ounce and has continued to rise in value despite the global economic slowdown - up five-fold in a decade.
India is already the world's biggest gold market for cultural reasons, with prices around the world affected by seasonal demand around the Diwali festival and the wedding season.
The growing middle class in China is catching up fast. Mainland China's Communist-led government deregulated gold ownership over a decade ago, and demand for jewellery has doubled in the past seven years, according to the World Gold Council.
The Mohan family believe their gold coins, and the jewellery they will eventually get made, are a better investment than anything else out there.
With the global economy sluggish, returns on gold can be better than shares or equity.
But if Asian families believe they're making an investment rather than just buying pretty necklaces or rings, they are deluding themselves, say experts.
"Jewellery is a very bad investment," says Harsh Roongta of the price comparison website ApnaPaisa.com, based in Mumbai.
Prices of necklaces, bracelets and rings reflect the cost of making them - which can add up to 30% on the price of the actual gold in these items.
If you want to benefit from the price of gold, he recommends various investment products and funds that are linked to gold instead.
Several index funds and exchange-traded funds based on gold are now available to consumers in India and beyond (although these funds are not without their critics either).
These funds are managed by companies that invest in gold bullion or firms that are mining for gold, and pay out the returns. This allows customers to benefit from rising gold prices, because the value of the funds goes up.
However, in reality the price of gold is going up because Asian governments are hoarding the shiny metal, not the investments of ordinary people.
"It's actually the governments in the big emerging markets who historically have surpluses in the US dollar," explains Darius McDermott, managing director of Chelsea Financial Services - a UK investment broker. "They are looking to diversify."
This means the rise in gold prices may continue. But George Soros, the billionaire investor who recently put money into gold, offered a sober warning in an interview with Reuters last year. "I've called gold the ultimate bubble," said Mr Soros. "It may be going higher, but it's certainly not safe and it's not going to last forever."
That means that even if you buy gold or invest in gold-linked funds, it shouldn't be the only place you save your money.
"As an investor, we want to be careful that we don't have all our money in one asset class," says Mr McDermott.
Of course, investing in gold-linked funds or putting your money into other stocks means saying goodbye to beautiful jewellery you can wear.
Sulbha Jagtap, a 40-year old office worker, looks at her husband ruefully as she explains why the couple no longer invest their savings in gold jewellery.
"He feels that gold does not have the resale value," she says.
Her husband Nitin explains that apart from a smaller number of items for Sulbha to wear to weddings, the household savings have gone into more profitable investments like mutual funds and fixed deposit schemes.
"I agree that there are some emotions that come in when we purchase gold," Ms Jagtap, with a tinge of regret.
The opinions expressed are those of the contributors and not held by the BBC. The material is for general information only and does not constitute investment, tax, legal or any other form of advice. You should not rely on this information to make any investment decisions. Always obtain independent, professional advice for your own particular situation.