Stagecoach: High petrol price boosts passenger numbers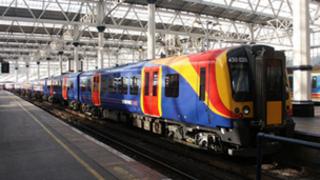 Stagecoach has reported a 27% rise in full-year profits, saying that the higher cost of petrol has encouraged more people to use public transport instead of taking their car.
Pre-tax profits at the bus and train company totalled £205.7m in the 12 months to 30 April, compared with £161.3m a year earlier.
Its revenues were up 10% to £2.38bn.
Passenger numbers at its East Midlands Trains franchise were up 6.9%, while those at South West Trains rose 4.1%.
It also saw a 9.3% rise at Virgin Trains, in which Stagecoach has a 49% stake.
The number of passengers across Stagecoach's numerous UK bus operations rose 0.9%.
Stagecoach also has a number of businesses in the US and Canada, which it said had also seen increased passenger numbers.
Stagecoach chief executive Brian Souter said: "We are seeing growing demand for our bus and rail services in the UK and North America, with further evidence of modal shift as consumers look for better value and more convenient transport alternatives to the rising cost of motoring and increasing road congestion."