Tepco shares jump as government says no break-up plan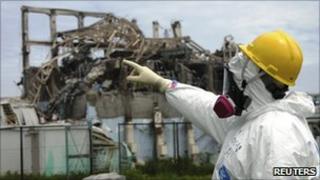 Shares in Japan's Tokyo Electric Power Company (Tepco) have jumped 20% after chief Cabinet Secretary Yukio Edano said he had no knowledge of any plan to break up the company.
Reports on Sunday suggested the government was in talks with Tepco about a possible break up.
Traders unwinding short positions also contributed to the jump, analysts said.
Tepco operates the Fukishima nuclear plant that was badly damaged by the earthquake that hit Japan in June.
Even after Monday's bounce, the company's shares have plunged more than 80% since the earthquake.
Tepco may have to pay compensation of almost $100bn (£63bn) following radiation leaks at its nuclear plant.
The disaster caused a meltdown at three of the six reactors, and more than three months on, radioactive material continues to leak from the facility.
Tepco's management has been criticised for its slow response to the crisis.