News International's Rebekah Brooks 'won't resign'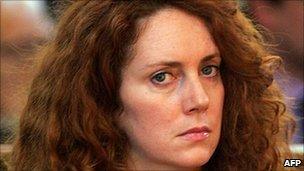 This story was originally published at 0810 BST on 5 July 2011.
Later today she is expected to tell staff at News International, the UK arm of Mr Murdoch's News Corporation, that she is deeply shocked by the allegations, which News International has been working through the night to substantiate.
However she insists that she was not involved in that instance of alleged phone hacking, or others, and knew nothing about it.
Ms Brooks has spoken to Rupert Murdoch, and is under no pressure from him to stand down.
"He is backing her 100%", said a News International executive - who insisted that it was only under her tenure as News International's chief executive that the company had resolved to uncover what had gone wrong in the past and to deliver all relevant documents and information to the police.
She remains in charge of the process of assisting the police in their enquiries, known as Operation Weeting, to determine whether criminal charges should be brought against those journalists implicated in hacking mobile phones and other invasions of individuals' right to privacy.
"She is committed to find out the truth of what happened here and leading the company through this difficult time" said one of her colleagues.
"Her job is to see this through".
Executives from News International are meeting the police at 9.30 this morning, for what they say is the 50th or so meeting with officers since they began their enquiries.
Update, 09:24: The prime minister has this morning made these comments about the allegations that the News of the World hacked into Milly Dowler's voicemails in 2002:
"On the question of the really appalling allegations about the telephone of Milly Dowler, if they are true, this is a truly dreadful act and a truly dreadful situation. What I have read in the papers is quite, quite shocking, that someone could do this actually knowing that the police were trying to find this person and trying to find out what had happened, and we all now know the tragedy that took place."
There is of course an uncomfortable feedback loop from the latest disclosures of alleged hacking to the prime minister - in that the deputy editor of the News of the World in 2002 was Andy Coulson, who became editor of the News of the World in 2003, and who also served as Mr Cameron's communications director until he resigned in January.
Mr Coulson will now be pressed to disclose whether he was aware of the alleged interception and deletion of voicemail messages left on Milly Dowler's phone.
Some will say that he and Rebekah Brooks are damned if they did know and damned if they didn't - in that as the most senior editors of the News of the World, they should have made enquiries about how sensitive information was obtained.
What Steve Hewlett pointed out this morning on the Today programme is that there is an important difference between Mr Coulson and Ms Brooks, which is that he resigned from News International all those years ago after the original revelations about how a private detective, Glen Mulcaire, used illicit techniques to obtain private information about prominent individuals.
Ms Brooks is impregnable in her position, while she has the full backing of Mr Murdoch - who has asked her to steer News International through this crisis.
What is important in this context is that News Corporation, owner of News International, is no ordinary public company - in that (to state the blindingly obvious) Mr Murdoch wields considerably more power within the organisation than is typical of a public-company boss.
And, as colleagues of them both have told me over many months, Mr Murdoch and Ms Brooks have a remarkable and close working relationship. "In some ways I would say she is as close to him as his children" said one.
Update, 12:25: Rebekah Brooks has confirmed she is not stepping down as chief executive of News International.
In a statement to News International staff she said: "I am sickened that these events are alleged to have happened. Not just because I was Editor of the News of the World at the time, but if the accusations are true, the devastating effect on Milly Dowlers family is unforgivable."
She added: "It is almost too horrific to believe that a professional journalist or even a freelance inquiry agent working on behalf of a member of the News of the World staff could behave in this way.
"If the allegations are proved to be true then I can promise the strongest possible action will be taken as this company will not tolerate such disgraceful behaviour.
"I hope that you all realise it is inconceivable that I knew or worse, sanctioned these appalling allegations."
She disclosed that she has written to the family of Milly Dowler, pledging to vigorously investigate the allegations that the News of the World hacked into the murdered teenager's mobile phone - and to communicate the results of the investigation to them before anyone else.
Its executives tell me they are not contesting the basic facts, as set out in yesterday's online story in the Guardian.
"We are working on the assumption that it is basically true", said one. "We have learned a good deal more about this from our own enquiries overnight."
Ms Brooks added: "It is important you all know that as Chief Executive, I am determined to lead the company to ensure we do the right thing and resolve these serious issues. We will face up to the mistakes and wrongdoing of the past and we will do our utmost to see that justice is done and those culpable will be punished."
Update, 13:56: News International executives tell me they fear there may have been worse examples of alleged hacking by the News of the World than that of Milly Dowler's mobile phone. The mind reels.
Update, 17:00: As I understand it, the Metropolitan Police are also probing an allegation that the News of the World instigated the hacking of the mobile phone of Leslie Chapman, father of Jessica Chapman, one of the schoolgirls murdered at Soham in 2002.