UK manufacturing output rebounds in May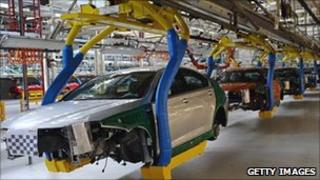 UK manufacturing output jumped by the largest amount in a year in May following a sharp drop in April.
The Office for National Statistics (ONS) said manufacturing output rose 1.8% in May, following a 1.6% drop in April when output was affected by the royal wedding public holiday.
However, the wider measure of industrial production rose by 0.9% in May, which was smaller than expected.
Analysts said the figures suggested the economic recovery remained weak.
Growth forecast
Manufacturing output in April was hit by both the large number of public holidays in the month, and by some firms being affected by supply problems stemming from the disruption caused by March's earthquake and tsunami in Japan.
The ONS said that the supply problems from Japan had diminished in May, contributing to the rebound.
However, May's increase in the industrial production measure - which includes utilities, and oil and gas extraction - failed to offset the 1.7% fall recorded in April.
"Even a decent rebound in June would probably leave industrial production down quite sharply in Q2 as a whole compared to Q1 and therefore dragging on GDP growth," said Vicky Redwood at Capital Economics.
"The survey evidence has given a pretty consistent picture of an underlying slowdown in demand for UK manufacturers' products both at home and overseas. Accordingly, this slowdown in the industrial recovery looks like it might continue."
Last week, the manufacturing purchasing managers' index for June - compiled by research firm Markit - indicated that growth in the sector had slowed.
However, other analysts were more optimistic.
"Manufacturing is not as structurally soft as some people had feared," said David Page at Lloyds.
"We think it will continue to be the cornerstone for an economic recovery over the next few quarters."
The Bank of England kept UK interest rates at the record low of 0.5% on Thursday, as expected.
Analysts do not expect any increase in UK rates until the final quarter of this year at the earliest, with many not expecting the Bank to make a move until 2012.