Infosys hit by slowdown in new business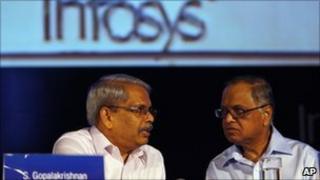 Shares in Infosys have fallen 6% after it said new client numbers hit a four-year low in the most recent quarter, and it had been hit by higher costs.
The latest quarterly profits from India's second-largest computer outsourcing company also narrowly missed market targets.
Infosys made a net profit of $384m (£243m) in the three months to 30 June, up 18% from a year earlier.
Its revenues for the quarter increased by 23% to $1.7bn.
Infosys said it added just 26 new clients during the three months and that it was having to pay higher wages to attract staff in India's competitive computer industry sector.
The company said it was being affected by global economic uncertainty.
"This is an environment where we need to be cautious. You can look at all the things which are happening," said Infosys chief operating officer SD Shibulal.
"There is still economic instability... there is the European crisis still unfolding. There is always talk about the government spending coming to an end."