BMW unveils London 2012 Olympics vehicles
By Jorn Madslien
Business reporter, BBC News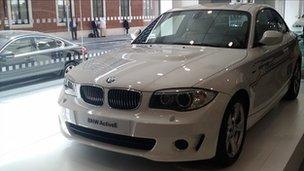 BMW has unveiled a range of cars, motorcycles and bicycles that will be used during the 2012 Olympics in London.
The main automotive sponsor of the Games wants to use the event to showcase its green technology.
Some 4,000 BMW vehicles will roam the streets of the UK capital next summer, with many of them electric or petrol-electric hybrids.
In addition, conventional diesel-powered cars will be used, BMW said.
Unveiling the largest car that will be used, a BMW 520d that can travel 63 miles on a gallon of diesel whilst emitting just 119 g/km carbon dioxide, Ian Robertson, BMW Group's global sales and marketing director, insisted the company has "driven our carbon dioxide emissions down more than any other car company, particularly in the premium sector".
BMW has reduced its average emissions by 5.1% in the last year alone, versus 3.4% for Audi and 3.3% for Mercedes. The Dow Jones Sustainability Index has named BMW Group the "most sustainable automobile company worldwide" six years in a row.
This, Mr Robertson pointed out, helped BMW to win the Olympics contract, as the company complied with London's demand for a fleet of low emission vehicles.
It should also be a distinct competitive advantage that could help it to boost sales from 1.6 million cars this year and to two million by 2020, he predicted.
"Just like safety was part of premium in the 1970s, sustainability is part of premium today," Mr Robertson said.
In Europe, where there is a greater focus on emissions than elsewhere in the world, average carbon dioxide emissions from the BMW fleet have fallen to 146g/km, though this belies the company's reliance on sales of larger and considerably thirstier models in the markets where growth is the strongest, such as Asia and the US.
Indeed, while putting considerable effort into making low emission models, BMW is also clinging to its image as a producer of high-performance cars with big, powerful - and thus thirsty - engines.
Such apparently conflicting values are likely to result in further "brand separation" in the future, where the company adopts different marketing strategies for, for instance, its electric sub-brand BMW i and its high performance, and far from green, sub-brand BMW M.
BMW is also moving beyond its core activities of building cars and motorcycles, and working on different products.
In cities in particular, cars may not always be the best vehicles to get around, so the company is working to develop both different vehicles and new services.
BMW is using the Olympics as a platform to launch products in new market segments. It is adding a pedelec - or an electric bicycle - to its range of bikes, and is launching a range of scooters.
"The scooter market around the world has been growing dramatically in recent years, particularly in urban environments," Mr Robertson said, pointing to how small motorcycle and scooter sales have doubled to about 40 million a year in recent years, while large bike sales have dropped in the past five years from about 1.5 million to about 750,000.
Some 200 electric Mini and BMW cars will also be part of the 2012 Olympic fleet.
"Electric vehicles are definitely part of the future solutions," Mr Robertson said, though he forecast that conventional petrol and diesel engines would remain the dominant technology for several decades yet.
The range of new services, as opposed to products, is still being developed. Many of them have been dreamt up by partners operating outside the motor industry, Mr Robertson said.
To encourage them, BMW has created a $100m venture capital fund, named BMW i Ventures, that will invest in small start-up companies.
So far, the fund has invested in a project called MyCityWay, which allows people to look at live traffic cameras on their smartphones to help them chose whether to drive, take the tube or ride a bike to where they are going.
It has also invested in ParkatmyHouse, which makes more parking available for drivers while earning home owners a crust.
With about a third of drivers in cities looking for a place to park at any one time, this should help improve traffic flow and thus cut overall emissions, Mr Robertson reasoned.
"Mobility solutions of the future have become an integral part of the car industry, so either you get onboard or you're in real trouble," he said.
Related Internet Links
The BBC is not responsible for the content of external sites.