Political risks complicate China's slowdown plans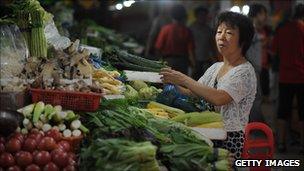 With accounting scandals, limp demand for new stock market listings and doubts over the banking sector's debt levels, it has been a long, difficult summer for investors in China.
But they may be underestimating another danger: Beijing's efforts to stamp out inflation.
The fight against inflation means interest rates are likely to continue to rise, and that in turn will slow the economy.
What is not clear at this stage though, is how high rates will have to go and how deeply growth will be affected.
"There is more to China's slowdown than the bare statistics reveal," says veteran China analyst Simon Hunt.
"It will be the political cycle which will determine the shape of fiscal and monetary policy."
On Wednesday, the National Statistics Bureau announced that economic growth increased by 9.5% in the three months to the end of June, compared with the same quarter a year earlier.
That is down from 9.7% in the previous three month period, and analysts expect a greater decline in the figure in coming months.
With China currently contributing as much to global growth as the G7 group of developed nations combined, any significant slowdown could have major consequences for the rest of the world.
But while China's economic policy may be causing jitters overseas, at home the campaign against inflation feels much needed.
In June, consumer prices rose to a three-year high of 6.4%.
The price of pork, the country's favourite meat, has risen by more than 50% over the past year to a record high.
"Food price inflation is severely affecting the middle class and lower income groups," says Dali Yang, a professor at the University of Chicago Centre in Beijing.
"Chinese parents are facing a lot of pressure in providing food, a roof and an education for their children," he adds.
Anger over rising prices has spilled out onto the streets, not least because the cost of other necessities such as fuel have also been climbing.
In April, truck drivers in Shanghai scuffled with police over the high cost of diesel, and there are concerns that unless inflation is checked then flashpoints of civil unrest may flare up again.
This tension comes at a time when China's leaders are in a period of transition and are especially sensitive to signs of disquiet.
The top leadership led by President Hu Jintao and Premier Wen Jiabao is due to make way for a new generation of politicians in 2012.
One of them, Vice-Premier Li Keqiang, is believed by some economists to have been behind the series of interest rate increases which began last autumn.
"This leadership transition is murkier than most, seemingly with policy disagreements. There is a real focus on inflation in its broadest context," Mr Hunt says.
However, even after five rate increases many economists believe real interest rates remain low, and that there is room to raise them further.
The argument is that untamed inflation would hurt the leadership's chances of a smooth handover, which is seen as crucial in a one-party state so focused on maintaining stability.
Keen to build populist support, Beijing has recently cut taxes, increased the minimum wage and renewed its commitment to subsidised housing for the poor.
But as Beijing helps some of its citizens, it may be hurting others with its attempts to slow growth.
As well as increasing interest rates, the government has also been trying to rein in the amount of money being lent by banks.
Newspapers are full of stories of companies, especially small businesses, being denied credit, or having credit lines cut off.
The private sector seems to be suffering the most from tight credit conditions, and the prospect of bankruptcies along China's wealthy coastal areas has prompted some experts to talk about a possible recession.
Sounding uncharacteristically downbeat, Jing Ulrich, China chairman of global markets for JP Morgan Chase, summed up the risk.
"The need to control domestic inflation has complicated the Chinese government's attempts to engineer a soft landing for the economy," she says.
Overly aggressive methods may backfire, she added, stifling economic growth.
So far, it is unclear what kind of impact Beijing's policies, driven by both economic and political considerations, will have at home and abroad.
But as the world's second-biggest economy and a vital driver of global growth, China's attempts to control inflation and maintain growth will reach well beyond its borders.