Public sector pension liabilities top £1 trillion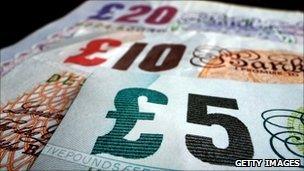 The UK's total liability for funding public sector pensions has reached £1.13 trillion, according to official data.
The figure, for the end of March 2010, is £332bn higher than the previous year, although £260bn of the rise is due to a fall in bond yields.
Ministers are expected to use the data to reinforce their argument that pensions must be reformed.
The data was published by the Office for Budget Responsibility.
The OBR report also disclosed that the total liabilities for Private Finance Initiative contracts were about £40bn, or 2.9% of GDP, as of March 2010.
Only £5.1bn of these were on the public sector balance sheet in the National Accounts.
Publication of the first OBR Fiscal Sustainability Report is designed to give a more accurate picture of UK liabilities that that have been built up for future generations.
Most public servants, with the exception of local government staff and university lecturers, are members of unfunded pension schemes in which the pensions are paid for out of general taxation.
The OBR's figure for pension liabilities, at £1.13 trillion, is an estimate of the stock of assets the government would need now, if an investment fund had to be established to generate the cash to make all the future public sector pension payments.
The OBR makes that point that its calculation of the taxpayers total liability to pay public sector pensions "had nothing to do with changes in the size of prospective pension payments".
Instead, its calculation is heavily influenced by a recent government decision to assume that, in theory, it would need more assets than before to fund the pensions.
The OBR points out that if future pension payments are compared to the size of the UK's total economic output (gross domestic product) the cash value of public sector pensions will probably fall from 2% of GDP in 2015-16 to 1.4% in 2060-61.
"These costs fall as a result of the decision to up-rate pensions in payment by CPI rather than RPI, the current pay freeze and planned workforce reductions," the OBR said.
Related Internet Links
The BBC is not responsible for the content of external sites.