Private rents still rising, letting agents say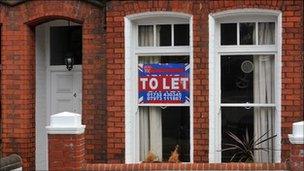 Strong demand for rented properties has pushed private sector rents to an average of £701 a month across England and Wales, a letting firm has said.
LSL Property Services, which owns letting agencies around the country, said the average rent paid by private tenants rose by 0.7% in June.
Over the past year, rents have now gone up by 4.1%, the equivalent of an extra £28 a month.
LSL said there was no sign of a let-up in demand from tenants.
David Newnes, of LSL, said: "Tenant demand continues to reach ever higher peaks - and there simply isn't enough rental property coming onto the market to match it.
"In areas like London where competition for rental property is most intense, it's not unheard of for rental properties to be let within a day of coming on to the market.
"We've had five successive months of rent rises, but there is no sign of a let-up anytime soon," he added.
LSL said that rents fell between 2008 and 2009 before starting to rise strongly again last year as the economy pulled out of recession.
Earlier this week the Association of Residential Letting Agents (ARLA) said there had been a continued rise in the number of people looking for homes to rent.
It said 74% of its members had more prospective tenants on their books than homes available to let to them.
LSL said this demand was being driven by two factors.
The first was that potential home buyers were being diverted to the rental market by a lack of new homes being built.
Just 103,000 new homes were built last year with the UK's population growing strongly.
The second was that many first-time buyers were finding it difficult or impossible to raise the deposit for a mortgage.
Rents are highest in London where they have gone up by 6.9% in the past year to an average of £1,006 a month.
Meanwhile, LSL said tenants' arrears fell from 11.5% of all rents due to 9.3%.
This amounted to £257m across the UK, LSL calculated.
"The improvement has been exaggerated by a change in behaviour from many landlords," Mr Newnes pointed out.
"With rents rising so quickly, many landlords are being less forbearing with tenants showing signs of payment difficulties, and are looking to replace them in expectation of higher rental income."
Related Internet Links
The BBC is not responsible for the content of external sites.