RBS strikes deal with Blackstone to manage £1.4bn fund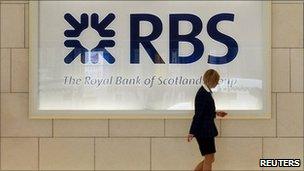 Royal Bank of Scotland (RBS) has struck a deal with private equity firm Blackstone to manage £1.4bn of UK commercial real estate loans.
The deal is part of the bank's strategy to reduce its exposure to some of its most troubled loans.
The joint venture will leave RBS able to benefit from potential future profits from the loan book.
But as Blackstone takes on a quarter of the loans' value, it also reduces the bank's exposure to continuing losses.
Blackstone will manage the portfolio and then the full disposal of the commercial property loans, seen as non-core, under RBS's recovery strategy.
The non-core sell-off and run-off is of £258bn of assets, or 21% of RBS's assets when it came close to collapse.
The Edinburgh-based bank needed a bail-out by the UK government that left the taxpayer with an 83% stake.
Bruce Van Saun, chief financial officer for RBS, said the Blackstone deal was an "important step" in RBS's strategy.
"This is an innovative agreement that allows RBS to tap into the liquidity in the market, to reduce our risk over time and to benefit from the possibility of upside in the portfolio," he said.
Michael Nash, chief investment officer of Blackstone Real Estate Debt Strategies, said: "This innovative structure could serve as the model for future transactions as banks look to dispose of non-core real estate assets".
In 30 months since announcing its recovery strategy, RBS has reduced its non-core assets to £125bn, less than half its original size and equivalent to 13% of the group's funded assets.
Related Internet Links
The BBC is not responsible for the content of external sites.