German bank Helaba 'to pull out of stress tests'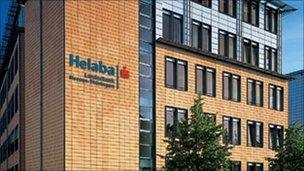 German bank Helaba says it expects to pull out of the EU's bank stress tests this week to avoid public failure.
Helaba said it would have passed the test if regulators counted a debt-equity hybrid, called "silent participation", as a capital reserve.
It said the European Banking Authority (EBA), which runs the tests, had said it would accept silent participation but then changed its mind.
Its withdrawal will raise concerns about the credibility of the tests.
The tests aim to ensure banks have sufficient capital to withstand difficult economic scenarios.
Helaba said that its core tier one capital ratio calculated in the test's harshest scenario was 6.8%, taking into account the silent participation.
That was above the 5% minimum threshold determined by the EBA.
The bank said it was not allowing the EBA to publish its data and therefore expected to be excluded from the tests.
The EBA had no specific comment on Helaba.
Its withdrawal would reduce the number of participating banks to 90.
The results of the stress tests are due to be published on Friday.
Related Internet Links
The BBC is not responsible for the content of external sites.