NZ's economy accelerates in first quarter despite quake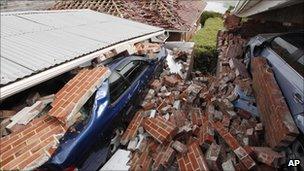 New Zealand's economic growth has accelerated in the first three months of the year despite a devastating earthquake.
Official figures showed gross domestic product rose 0.8%, the fastest pace for more than a year.
The New Zealand dollar hit a 30-year high against the US dollar on the news.
The pick up in growth comes despite the fact that Christchurch, the country's second biggest city, was hit by a 6.3 magnitude earthquake in February.
Analysts said the strong figure brought forward the prospect of an interest rate rise.
The statistical office also revised up its 2010 fourth quarter gross domestic product figure to 0.5% from 0.2%, underlining the the view that the economy was proving robust.
"It's a pretty remarkable result given the circumstances," said Philip Borkin, an economist at Goldman Sachs.
"It clearly shows that the disruption to the economy from the earthquake was less than expected, and the economy was really honking along in the first three months of the year."
The New Zealand dollar jumped more than three quarters of a cent to a high of NZ$0.8490 against the US dollar.
Related Internet Links
The BBC is not responsible for the content of external sites.