Singapore's economy stalls as manufacturing slumps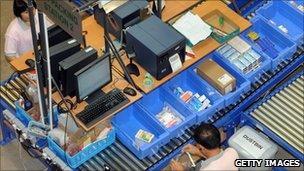 Singapore's economic growth stalled in the second quarter as manufacturing activity in the country plunged.
Growth was 0.5% in the three months to the end of June compared with a year earlier, a sharp decline from 9.3% growth in the previous quarter.
Singapore authorites said the sharp turnaround was led by a drop in demand for semiconductor computer chips.
Manufacturing was down 5.5% in the second quarter compared with a year ago.
Singapore has been struggling to maintain last year's record pace of growth.
Compared to the previous three months, GDP contracted at a rate equivalent to an annual 7.8%.
The weaker-than-expected numbers have led to concerns that the city-state may not be able to meet its growth targets for the year.
"The growth forecast of 5-7% that the government has is looking a bit too positive," said Chua Bin of Bank of America-Merrill Lynch.
The services sector recorded modest growth of 3.3% year-on-year, down from 7.6% in the January-March period, reflecting a slowdown in the distribution and financial sectors, the Trade and Industry Ministry said.