OFT probes websites re-selling official services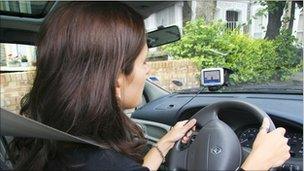 Websites that try to sell government services that are free or cost little are going to be investigated by the Office of Fair Trading (OFT).
Last year it closed four websites charging for free European Health Insurance Cards (EHICs).
The OFT said others might be posing as official government agencies and deceiving customers into paying fees.
It will look at sites charging excessive fees for driving theory tests, as well as selling EHIC cards.
Cavendish Elithorn, of the OFT, said: "It is important that companies are clear about the service they are offering, and do not trick people into paying for something that they can get for free or much cheaper on government websites."
"We will be considering whether any of the sites under investigation are misleading consumers," he added.
The issue emerged last year when it was highlighted on the BBC's Money Box programme on Radio 4.
It found one site that was charging £1.50 a minute for information freely available from the government, with a phone number for a 19-minute, pre-recorded message giving child benefit advice.
That would have cost the caller nearly £30 if he or she had listened to the whole message.
The four websites that were subsequently closed had been charging £10 for processing EHIC applications that people could have made themselves.
Related Internet Links
The BBC is not responsible for the content of external sites.