JP Morgan profits beat market expectations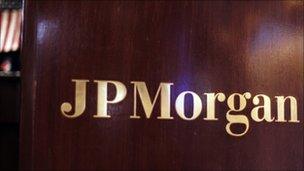 JP Morgan Chase has reported a 13% rise in quarterly profits, beating market estimates, driven by its commercial and investment banking divisions.
Net profits at the US group totalled $5.4bn (£3.3bn) in the three months to 30 June, up from $4.8bn a year earlier.
Revenues at its commercial banking arm reached an all-time high, and were "strong" at the investment business.
The bank's retail unit also made a profit, despite continuing losses from bad mortgage debt.
Quarterly revenues at JP Morgan Chase were up 7% to $27.4bn.
The bank said its latest results reflected "sold performance across most of our businesses".
Net profits at its investment bank totalled $2bn, while those at its commercial arm came to $607m.
Its retail banking division made a net profit of $582m, despite bad debt losses of $454m.
JP Morgan is the first of the big US banks to report its second quarter results.
Analyst Peter Cardillo, chief market economist at Avalon Partners, said: "It's good to have a big bank come out and beat estimates.
"It sets a positive tone for other commercial banks."
Related Internet Links
The BBC is not responsible for the content of external sites.