EU bank stress test results due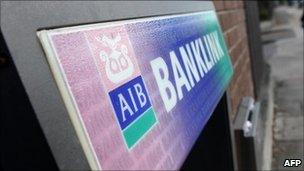 The European Banking Authority (EBA) is set to publish the results of stress tests of 90 banks across Europe later.
The tests are designed as a financial healthcheck and aim to ensure banks have sufficient capital to withstand difficult economic scenarios.
Some say the tests are not strict enough, despite changes made after only seven out of 91 banks failed last year.
On Wednesday, German bank Helaba said it expected to pull out of the stress tests to avoid public failure.
It said it would have passed the test if regulators counted a debt-equity hybrid, called "silent participation", as a capital reserve, but the EBA, having initially said it would accept this, then changed its mind.
The bank said it was not allowing the EBA to publish its data and therefore expected to be excluded from the tests.
The EBA has said that this year's tests would be tougher than the first round.
Last year, both Irish banks tested, Bank of Ireland and Allied Irish Bank (AIB), were given a clean bill of health. But just months later, AIB needed a government bail-out.
The ratings agency Standard & Poor's has suggested the latest tests could still have been more severe.
"We consider that the European Banking Authority has pitched its stress scenarios at a level that attempts to be sufficiently tough to reassure markets, but not so stringent as to suggest material capital shortfalls," the agency said in a note.
"We consider that a moderately harsher scenario would add greater value in terms of assessing the resilience of the European banking sector."
Francis Fitzherbert-Brockholes, a banking and capital markets partner at law firm White and Case, also questioned the terms of the tests.
"Although the tests are apparently more robust now, they still do not assume a sovereign debt default, only a sovereign debt downgrade," he said.
Up to 15 banks are expected to fail the stress tests this time round, which regulators hope will persuade investors that the EU is coming clean about the extent of its banks' problems.
BBC business editor Robert Peston said the most important thing about the stress test results is that they should include enough detail about the risks to which individual banks are exposed so that the banks' creditors know the risks they are running.
"The cancer for the banking system is the uncertainty about which banks are weakest - because if there's a sense that some banks are at risk of going bust, but it is not clear which, the rational response of any creditor is to shun them all," he said.
The test results are expected to be published at 1600 GMT (1700 BST).
Related Internet Links
The BBC is not responsible for the content of external sites.