Trinity Mirror extends Sunday paper print runs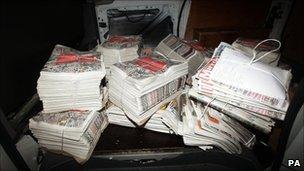 A leading rival to Rupert Murdoch's newspapers is planning a major marketing drive to pick up on the absence of the News of the World from news stands this weekend.
Trinity Mirror has said an extra 1.75m papers will be printed on Sunday.
One million will be of the Sunday Mirror, 500,000 of the People, and 250,000 of the Sunday Mail.
It follows News International's sudden closure of the News of the World in response to the phone hacking scandal.
Sly Bailey, chief executive of Trinity Mirror, said the drive would include promotions, television advertising, direct mail and price cuts in selected regions.
"Our brands are trusted and respected by our readers," she said in a letter to advertisers.
"We believe that our newspapers, their quality journalism and unrivalled portfolio reach will provide your clients with a viable and valuable route to this important Sunday market."
She also said it had been "a historic week in the media world".
The other major contender to gain from the News of the World's departure is the Mail on Sunday.
Its owner, the Daily Mail and General Trust (DMGT), refused to comment on its marketing plans for the first weekend without the long-time market leader.
However, DMGT issued a statement saying high costs of printing and poor advertising figures are forcing it to put up the price of its weekday edition of the Daily Mail by 10% - from 50p to 55p.
The group also said that advertising in the second quarter was down 7%, with the fall accelerating during June.
This was despite events such as the royal wedding, which would normally help drive business. The statement sparked a fall in DMGT's share price of more than 4%.
The Daily Star Sunday, part of the Northern & Shell group which also owns the Daily Express, is reported to be launching a new magazine this weekend, with an increase in print run.
Related Internet Links
The BBC is not responsible for the content of external sites.