Pay as you go mobile phone calls become more expensive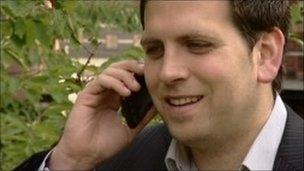 More than half of all mobile phone customers in the UK use their phone on a pay as you go basis and phone companies make almost a quarter of their revenues from such customers.
But some on the most basic tariffs are now seeing their call costs going up by 25% because two of the UK's biggest phone companies are hiking their pay as you go charges.
As part of its latest pricing review, Orange has increased rates from 20p to 25p per minute on three of its pay as you go plans.
And the basic per minute pay as you go rate with Vodafone has this week increased from 21p to 25p per minute.
So why is this happening when other call charges are coming down, particularly if you are using your mobile abroad?
It is linked to changes to mobile termination rates (MTRs). These are the rates that the operator receiving the call charges the network on which the call was made for completing the call.
They are the reason why calling a mobile from a landline has been more expensive. Because the larger companies had more customers, they completed more calls and so made more money from MTRs than their smaller rivals.
In March the regulator, Ofcom, began to dramatically slash MTRs, to help reduce the cost of landline-to-mobile calls and to introduce greater competition into the mobile phone market.
But the changes mean that a lucrative revenue stream has been reduced for the bigger operators.
A Vodafone spokesman said the company ''warned Ofcom at the time that it would have to recoup costs from elsewhere and that pay as you go charges would go up as a result".
Both Vodafone and Orange stress that they have at the same time improved deals on top-up bundles of minutes, texts and data for pay as you go customers.
An Ofcom spokesperson said the regulator stands by its decision to cut MTRs.
"When we cut wholesale mobile termination rates we did so in a way that would increase choice for consumers and lead to cheaper landlines calls. We have already seen some operators improving deals for consumers as a result of our decision," he said.
Mike Wilson from price comparison website Moneysupermarket.com says making the most of top-up deals is the way customers can still keep their bills relatively low.
''You can go to any one of the networks, look at how you use your phone and if you are willing to top up a little bit more per month the networks will throw in some good incentives, including bundles of text and data as well,'' he says.
Orange customer David Robertson from south east London has already begun the process of switching providers.
''I opted for pay as you go because I am a relatively light user of my mobile. Like many people, particularly in tougher economic times, I really want to keep an eye on my bills and my costs low," he says.
"I'm switching now because I've found another smaller provider called GiffGaff which only charges 8p per minute on a standard pay as you go tariff.
"I don't know what the service will be like, but I'm willing to try it to limit my bills.''
Related Internet Links
The BBC is not responsible for the content of external sites.