BHP boosts shale gas business with $12bn Petrohawk deal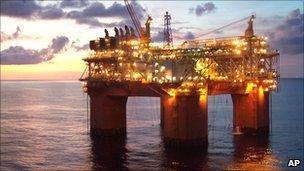 BHP Billiton has boosted its presence in the booming shale gas market as it agreed to buy US firm Petrohawk Energy.
BHP will pay $12.1bn (£7.5bn) in cash, giving it access to shale oil and gas assets across one million acres in Texas and Louisiana.
The deal comes just months after BHP agreed to buy Chesapeake Energy's Arkansas-based gas business for $4.75bn.
Demand for shale gas has increased as other fuel costs have risen.
BHP said the deal provides it with greater exposure to the world's largest energy market and broadens the company's geographic and customer spread.
Shale gas is extracted from shale rocks though a process called 'fracking'.
The US has vast deposits of these rocks and the market for shale gas has surged since efforts to extract it became viable on a commercial scale.
Some analysts say the ability to extract shale gas has given the US a more stable, longer-term energy security and has also played a key role in keeping a lid on domestic gas prices.
As demand rises, companies such as BHP have been keen to increase their share of the US natural-gas market, which is valued at almost $99tn.
Analysts said the acquisition of Petrohawk will help BHP expand its operations at a quicker pace.
"They have already indicated that they are going to accelerate the development of the projects even further," said David Lennox a mining and resources analyst with research house Fat Prophets.
"They are looking to invest close to $5bn by 2015 to develop these facilities."
While there has been a push by companies to capture a share of the growing non-conventional energy market, analysts said geo-political concerns have also played a role in shaping their policies.
"The events that we have seen in the Middle East and North Africa have heightened the miners' hunt for unconventional gas and oil sources in more stable areas," said Fat Prophets' Mr Lennox.
Recent social and political unrest in countries like Libya saw oil supplies being disrupted and fuel costs surging.
There is also concern that the demand for fuel is increasing at a much faster pace than supplies.
Mr Lennox said a combination of these factors has seen the companies speed up their search for alternate energy sources.
"That process is already happening."
"You have to look at what is happening in the US with shale deposits, most of them are now being explored," Mr Lennox said.