US consumer prices fall in June on lower energy bills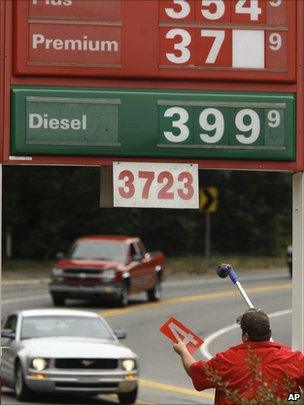 The cost of living in the United States fell in June, as a sharp drop in energy cost offset other price rises.
Consumer prices fell 0.2%, their first monthly fall in a year; excluding energy and food, prices rose slightly. The annual inflation rate was 3.6%.
However, a survey of consumer confidence suggests US shoppers are feeling increasingly pessimistic.
Worries about falling incomes and rising unemployment pushed confidence to its lowest since March 2009.
According to the Thomson Reuters / University of Michigan survey, the measures of both the current economic conditions and consumer expectations dropped to their lowest since 2009.
Separately, a much-watched gauge of manufacturing activity in the state of New York showed a contraction for the second month in a row, a worse than expected performance.
Earlier this week, the chairman of the US central bank, Ben Bernanke, had said that recent price rising would probably be temporary, because of rising unemployment and slow growth.
However, the rise in core inflation - which excludes the cost of energy and food - was the biggest monthly gain in three years and some Wall Street analysts continue to believe that inflationary pressures are building.
"The world is no longer deflationary, and you're seeing that in spades in core commodities," said Eric Green, chief economist at TD Securities in New York. "We are getting a very, very sharp rebound in core inflation and much more than the Fed bargained for."
Related Internet Links
The BBC is not responsible for the content of external sites.