Sony Ericsson suffers loss after Japan's quake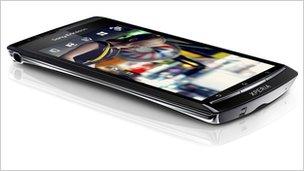 Sony Ericsson has blamed the the Japanese earthquake for a 50m euro (£44m; $71m) loss during the three months to June.
The mobile phone maker said the quake last March had caused "supply chain constraints", which meant that about 1.5m phones were not ready for sale.
Smartphones now make up more than 70% of Sony Ericsson's total sales, up from just 40% at the end of last year.
Sales of smartphones using Google's Android operating system grew 150%.
Sony Ericsson estimates that it now has an 11% share of the Android smartphone market - by both value and volume.
During the first quarter of the year, Sony Ericsson had managed to achieve net profits of 11m euro, but on an extremely slim operating margin of just 2%.
During the past few years the mobile phone firm has seen a steady erosion of its share of the mobile phone market, losing out to Apple with its iPhone models and quickly growing Asian rivals like Samsung and HTC.
The company has gone through a cost-cutting exercise, including making 4,000 staff redundant.
Sony Ericsson is a 50-50 joint venture of Japanese entertainment electronics firm Sony and Swedish telecoms equipment maker Ericsson.
Ericsson's shares fell 1.3% on news of Sony Ericsson's losses.
Related Internet Links
The BBC is not responsible for the content of external sites.