Co-operative Financial Services to cut 670 jobs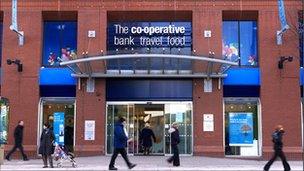 Co-operative Financial Services (CFS) is to cut 670 jobs with the closure of its door-to-door sales team.
Part of the Co-operative Group, CFS said the division faced rising regulatory costs with the introduction of new rules on financial advice.
CFS also said it was in talks with insurer Royal London to sell its life insurance division and £20bn of assets.
CFS has 12,000 staff, more than 300 High Street branches, and 8 million customers.
Of the job cuts, 497 will be from sales staff, with the remainder in office-based managerial and support roles.
A further 82 existing Co-operative branch-based jobs will be transferred to the insurance firm AXA, with which it has a partnership.
In January 2013 new rules - the Retail Distributive Review (RDR) - will be introduced to toughen regulation of the sale of financial products to members of the public.
Neville Richardson, CFS chief executive, said the decision on job cuts was "not taken lightly".
However, he said: "We were faced with rising regulatory costs in a business which was increasingly becoming sub-scale.
"This move supports our strategy to focus our specific attention on our banking and general insurance areas, where we have a growing and strongly differentiated competitive position," he said.
Last month, HSBC bank cut 700 jobs across the UK as it prepares for a drop in demand for financial advice as a result of the changes in the RDR.
Meanwhile Royal London, the UK's largest mutual life and pensions company, said it was in exclusive talks to buy CFS's life assurance and asset management businesses, which has about two million policyholders.
Mike Yardley, Royal London's chief executive, said: "I believe the opportunity we are discussing with CFS has the potential to deliver another major step forward for Royal London, with real benefits for our members and other policyholders."
A takeover would need regulatory approval.
Related Internet Links
The BBC is not responsible for the content of external sites.