Rebekah Brooks' arrest is huge blow for Murdochs
Robert Peston
Economics editor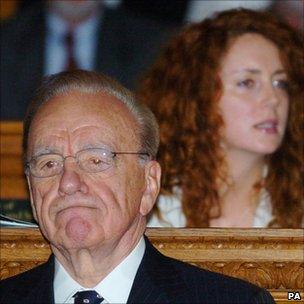 Today's arrest of Rebekah Brooks, who was until Friday the chief executive of News International, represents perhaps the greatest failure to date in the Murdoch-controlled group's campaign for rehabilitating itself.
Because ever since News International and its parent company News Corporation were seriously damaged 13 days ago by the allegation that the phone of the murdered schoolgirl Milly Dowler was hacked at the instigation of the News of the World, News International has been on an explicit mission to demonstrate that Mrs Brooks was innocent of all wrongdoing.
Although Mrs Brooks was editor of the News of the World at the time of the alleged hacking, she has denied all knowledge of it. And she has denied she was aware of other alleged instances of phone hacking or of bribes allegedly paid to the police.
So the thrust of News International's message to the world was that Mrs Brooks was as shocked as everyone else by disclosures that appear to show that there was a culture at the News of the World of systematically breaching proprieties in the pursuit of stories.
If she was guilty of anything, said her colleagues, it was of not knowing what her subordinates were doing.
That ignorance while in positions of authority at News International was ultimately enough to persuade her to resign from the company on Friday - many days after there had been widespread calls, including a demand from her friend, the prime minister, for her to go.
But News International was still insisting she had done nothing fundamentally wrong. She was leaving only because she had become a lightning rod for criticism of the company which made it harder for any kind of equilibrium to be restored in the business. Or so her friends insisted.
To put it another way, the company's version of what happened at the News of the World and who was to blame has been implicitly challenged in a fundamental way by the decision of the Metropolitan Police to arrest her on suspicion of alleged involvement in phone hacking and corruption.
As a company executive said to me, "we just don't know what's going to happen next".
Now there are two reasons why News Corporation and News International were so keen to protect Rebekah Brooks.
First is that there is probably no one involved in the business, whose surname isn't Murdoch, who is as close to Rupert Murdoch, News Corp's chairman, as is Rebekah Brooks.
When they are together, he displays a conspicuous affection for her. "Some would say he is almost as close to Rebekah as he is to his children" said one of their colleagues.
And then there is a second reason why her arrest will be a blow both to Rupert Murdoch and to his son, James Murdoch, her immediate boss as head of News Corp's European operations.
Ignorance does not protect
Her ignorance of what happened at the News of the World reinforced their claims that they too had no knowledge of the alleged scale of abuses by the Sunday tabloid, which was closed down only a week ago.
The importance of today's events is that her claimed ignorance did not prevent her being arrested.
The other point about her arrest is that it is something of a shock to the political establishment, since she was on unusually good and friendly terms with three successive prime ministers, Tony Blair, Gordon Brown and the current tenant of 10 Downing Street, David Cameron.
If, as seems likely, her arrest prevents her from giving public evidence on Tuesday to MPs on the culture, media and sport Commons committee, her many friends in high places may be slightly relieved.
In the current climate of criticism of News International, there will be quite a few powerful people who would be pleased if the brightest possible media light isn't shone on their close and personal relationship with Mrs Brooks.