Chinese government intervenes to curb pork price rises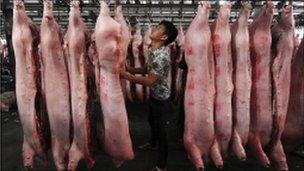 China has announced plans to release supplies of pork onto the market to help cut the price of the country's most widely consumed meat product.
It also said it was planning to build up its reserves of the meat.
The move comes as the price of pork has jumped by almost 60% pushing the rate of inflation to a three-year high.
Pork prices have been rising after an outbreak of disease two years ago led to a cull of livestock and delays in boosting production.
At the same time, demand for meat has been rising in China as consumers become richer.
According to the Ministry of Commerce, there are 200,000 tonnes of pork in reserves, which will be released into the market as and when needed.
It added that it could release more if required.
According to analysts, the current reserves of pork are equal to one or two days worth of China's total pork consumption. Chinese people currently eat about 50 million tonnes of pork a year.
The Ministry also said that as well as increasing the supply of live pigs, the government will invest 2.5bn yuan ($384m; £240m) in large-scale pig farms this year.
To make it more attractive for farmers to raise livestock, the government said it will pay them higher subsidies for pigs.
Farmers will receive a 100 yuan subsidy for each pig raised, and also 800 yuan in compensation for every pig they raise that dies from disease or other external factors.
The higher price of pork has been hitting consumers hard and has been a major factor behind the accelerating rate of inflation.
China's consumer price index increased by 6.4% in June compared to a year earlier. That is the highest level since June 2008, and well above the government's target of 4% for this year.
The National Bureau of Statistics said that in June pork prices were 57.1% higher than they were a year earlier.
"Higher feed prices, increased labour costs and a drop in pig numbers over the past two years have all helped push prices up this year", said Ministry of Commerce spokesman Yao Jian.