Philips reports 1.3bn euros quarterly loss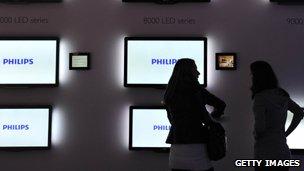 Electronics giant Philips has revealed a 1.3bn euros ($1.83bn; £1.13bn) quarterly net loss, and has said it will cut costs by 500m euros.
It put the loss down to slower-than-expected economic recovery. A year ago it made a net profit of 262m euros.
Write-downs at its healthcare and lighting divisions came to 1.4bn euros.
It said "results were impacted by near-term operational challenges, weaker markets and a significant impairment charge".
In May it warned of sharply lower second-quarter profits and slowing sales growth.
Philips expects to complete the cost-cutting work during 2012.
The Dutch company, which employs 119,000 worldwide, gave no details of any potential impact on staffing numbers.
Philips chief executive Frans van Houten said he did not expect its performance to improve "in the near term".
Shares in the company have fallen 30% of the past year.
Electronics sector analyst Hans Slob of Rabobank said: "This is a wider signal that the consumer is not really recovering."
Philips has struggled in recent years against Asian rivals, especially South Korea's LG and Samsung, who have lower manufacturing costs.
Related Internet Links
The BBC is not responsible for the content of external sites.