US DoJ sounds out Serious Fraud Office on News International
Robert Peston
Economics editor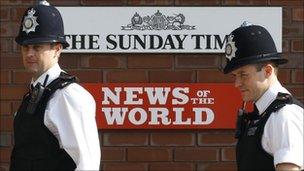 I have learned that the US Department of Justice (DoJ) has taken informal soundings from the Serious Fraud Office (SFO) about how to investigate allegations that the News of the World paid bribes to police for information.
The interest of the Washington-based DoJ stems from the US nationality of the News of the World's and News International's parent company, News Corporation.
It is illegal for any US company to pay bribes to overseas officials, under the Foreign Corrupt Practices Act.
According to sources, the DoJ has not yet launched a formal investigation. But its conversations with the SFO - with which it worked on the long-running investigation into commissions allegedly paid by BAE Systems to acquire contracts - show that it is actively considering whether it needs to launch such an investigation.
I am told that the DoJ contacted the SFO, rather than the Metropolitan Police - which is investigating the News of the World's alleged payments to police here in the UK - because of its existing relationship with the SFO.
This further evidence that the News of the World scandal may infect News Corporation outside the UK will be of concern to the Murdochs who control the media empire, and to its other shareholders.