Thomas Cook extends bank credit terms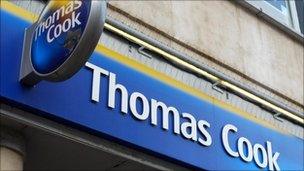 Travel operator Thomas Cook has announced a one-year extension to its banking facilities.
The arrangement, comprising a £200m loan and an £850m credit facility, which can be called upon if required, now runs until May 2014.
Last week, the firm said profits would be hit by unrest in the Middle East and North Africa, and by weak UK spending.
The latest statement also said that the interest margins on the facilities had been reduced with immediate effect.
It is now 2.25% on the loan, and between 2% and 2.5% on the credit facility, depending on how much is used.
The margin had previously been 2.75% for both facilities.
The group is currently looking to sell some hotels and other assets, worth a reported £200m, as it seeks to reduce its debt.
Related Internet Links
The BBC is not responsible for the content of external sites.