Newsagents hit by News of the World closure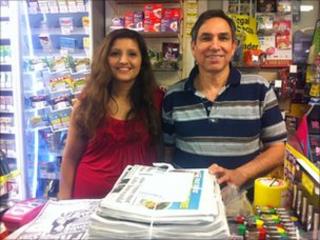 It was the first Sunday in Anjali Karpal's 20-year career as a newsagent that she did not put out the News of the World on her newspaper stand.
On Sunday, there were 14 newspaper titles for sale at Anjali and Prabodh Karpal's shop in Horsham, West Sussex, but the most popular one had disappeared.
Before News Corp announced that it was closing the News of the World title, it sold on average 2.6 million copies every week and was supposedly read by 7.5 million people.
Now it has gone, newsagents such as Mrs Karpal are worried that they will lose custom.
"The News of the World was by far our most popular paper," she says.
"It accounted for about 20-30% of our total newspaper sales."
Big hit
The last time the sector lost a newspaper was when Today shut down in 1995.
A third of its readers were estimated to have exited the market completely.
And although it is early days Mrs Karpal is worried the same will happen now.
"So far in my shop it looks like a lot of those readers are not buying any other Sunday papers," she says.
"We've contacted all of our delivery customers to see if they want another Sunday paper delivery, but the majority of them haven't asked for an alternative."
For many shops, selling a newspaper is also a way to get people through the door.
So Mrs Karpal thinks that without their most popular newspaper on the stand business will suffer.
"When people come in for a paper they'll also buy milk or chewing gum or anything, really," she says.
"It's a very important way for us to get the footfall. Today I have lost about £200 in sales that I would normally get from people buying extras when they come in for the News of the World."
Additional prints
Other newspaper publishers are hoping that the gap created in the Sunday paper business by the News of the World's departure will be theirs for the taking.
Trinity Mirror, which owns three Sunday titles, made a big push this weekend to snap up the readers left behind by the closed paper.
As well as heavy advertising and price promotions, the group printed one million more copies of the Sunday Mirror, half a million extra prints of the People and a quarter of a million more copies of the Sunday Mail, sold in Scotland.
But Mrs Karpal does not think it has made much difference.
"I was sent 10 more copies of the People and 30 extras of the Mail on Sunday," she says.
"We sold out of the People, but only sold 60 out of 93 copies of the Mail. It was a quiet day overall. We didn't sell as many papers as we normally would."
Not enough
That is not true of every newsagent, though.
On a Facebook page for members of the National Federation of Retail Newsagents, newspaper sellers across the country are discussing the News of the World aftermath.
Newsagent Stephen Hunter said on the forum that he had sold all of his copies of the Sunday Mirror by 10am.
Another newsagent, Christine Southern, observed: "Sold out of Mirror at 9.15am, People at 9.45am and Star at 10.15am."
But some struggled to make up the difference. James Wilkinson posted a message on the forum saying: "So we sold an extra 80 papers when we would normally sell 120 News of the Worlds."
New routines
Newsagents are also worried that the fight to replace News of the World as the most read UK newspaper will result in them losing money.
"Newspaper sellers get around 22% of the sale price," explains Mrs Karpal, who is also a representative for the National Federation of Retail Newsagents.
"So when the publishers slash their prices to get sales, which they did today, it means the newsagent has to take a hit too.
"We are all worried about how long this will continue."
It is only the first Sunday in 168 years that the News of the World has been missing from newspaper stands and it is likely to take some time before its former readers and the newspaper market itself settles into a new Sunday routine.