Hypo Real Estate aid cleared by European Commission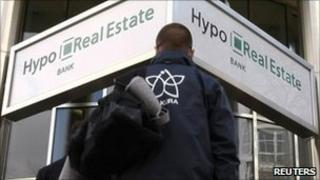 The European Commission has approved 175bn euros ($245bn; £153bn) of state aid to Hypo Real Estate (HRE) in return for major cuts in its activities.
HRE will phase out all of its businesses except in its core bank Deutsche Pfandbriefbank (PBB).
The EU said that PBB's adjusted balance sheet would be "around 85%" smaller at the end of 2011 compared with HRE's at the end of 2008.
HRE received a bail-out in 2008 before it was nationalised in 2009.
"The restructuring plan seeks to ensure that the serious liquidity problems which threatened HRE's existence some years ago cannot be repeated, so as to ensure the future viability of PBB," said competition commissioner Joaquin Almunia.
HRE faced a severe liquidity shortage in the wake of Lehman Brothers' bankruptcy in 2008.
The German government provided it with capital injections of 10bn euros and liquidity guarantees amounting to 145 billion euros.
HRE welcomed the commission's decision and said that it provided the basis for a successful presence on the credit and capital markets.
The decision comes as the European banking sector comes under scrutiny.
Equity markets have dropped following the mixed results of the Europe-wide stress tests.
"Today's decision brings one of the most significant financial crisis state aid cases to a constructive close," said Mr Almunia.